Women's Voices
Bookshop Santa Cruz has launched a year-long programming effort called Women's Voices whose aim is to elevate the voices of women writers, further the dialogue around issues facing women today, and create a community conversation about equality in Santa Cruz through books.
We are at an important moment of our history with an international focus on the reality of women today and a call to action for equality. Through book selections, author events, reading challenges, children's programming, and community building events, Bookshop hopes that we help continue to focus attention on these important issues and help customers discover (or rediscover) books that further this national and local conversation.
Each month throughout the year, Bookshop Santa Cruz will highlight a book, written by a female author, that we invite everyone in Santa Cruz to read. This Women's Voices Selection, be it fiction or nonfiction, will strive to get people talking about feminism today and will come with an action list that will help transform that dialogue and inquiry into engagement for equality in our community.
Look for the Women's Voices logo in the store and online to bring your attention to featured books and events.
We hope you will join us to listen, reflect, and take inspiration from the women speaking up for change and equality in this 21st century.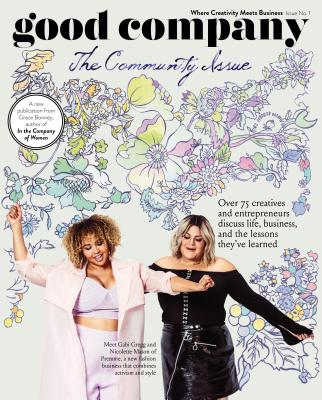 JULY WOMEN'S VOICES SELECTION:
Focus: Women & Entrepreneurship
Good Company by Grace Bonney
In 2016, Design*Sponge founder Grace Bonney wowed us with her intimate and affecting portraits of creative women following their dreams and sparking a global movement of entrepreneurship in her book, In the Company of Women. Now she takes her work to the next level with the release of her biannual publication, Good Company, Bookshop's July Women's Voices pick. Good Company highlights businesses, organizations, and creative endeavors taken on by female-identifying leaders who are using their collaboration, creativity, and bent towards social justice to change their communities.
We were so inspired by Bonney's profiles that we wanted to elevate the voices of some of the women doing this very work in our own downtown. Bookshop joined dozens of female-led downtown businesses to launch a new organization—AWE: The Alliance of Women Entrepreneurs: Building Community in Downtown Santa Cruz. Learn more about AWE, the AWE Passport Challenge, and the launch event to celebrate AWE at Assembly on July 25th, here. And keep your eye out for posters in the windows of downtown AWE businesses, profiling female leaders who are working every day to foster a strong sense of community downtown. You can read all of the profiles here.
Focus: Queer Voices

We have chosen Surpassing Certainty as our Women's Voices selection for June. Best-selling author and transgender rights activist Janet Mock writes about culture with an emphasis on gender, race, and representation. In Surpassing Certainty, she reflects on her years as a young woman searching for purpose and place int he world without a roadmap to guide her forward. "An honest and timely appraisal of what it means to be true to yourself." —Booklist
Inspired by Janet Mock's activism, we have selected an additional ten books representing queer female voices.
20% of the sales of these ten books and Surpassing Certainty (during the month of June) will be donated to the Diversity Center of Santa Cruz County.
Read about our selections
here
.
MAY WOMEN'S VOICES SELECTION:
Refuge: An Unnatural History of Family and Place by Terry Tempest Williams
Women & Motherhood is the focus of our Women's Voices campaign for May and our reading selection is Refuge by Terry Tempest Williams. In this seminal book, Williams interweaves the story of her mother's unsuccessful battle with cancer with a record-shattering rise of the Great Salt Lake and its destructive effect on a nearby bird refuge. Refuge is a beautiful, insightful, and hopeful book about the enduring links between mothers and children, change in those relationships, and their reflection in the natural world.
Join us Sunday Evening May 6th at 7:00 for Mother's Voices Writing Workshop:
An Evening of Conversation, Storytelling & Writing
.
Open to mothers of all ages and writers at all stages. Come on your own or with your mother, your daughter, a friend. Bring a notebook and pen. Through storytelling and inventive writing exercises, you will learn how to use writing as both a tool for chronicling your life and a path to making sense of your experiences. And you will discover the magic that happens when mothers come together to write. Far more powerful than a solitary voice, it is through a chorus of voices that we begin to communicate our collective experience of motherhood. Read more about it
here
.
APRIL WOMEN'S VOICES SELECTION:
The Female Perusasion by Meg Wolitzer
Join us for a discussion and book signing with the author on Thursday, April 12th, at 7:00. Details here.
We have selected bestselling author Meg Wolitzer's new novel, The Female Persuasion, which Kirkus Reviews calls, "The perfect feminist blockbuster for our times." (starred review)
Inspired by the storyline of

The Female Persuasion

, Bookshop asked feminists from different generations to recommend books to each other.

What books should young feminists read to understand the history of the movement? What books do young feminists feel represent the issues facing young feminists today? Read our contributors' recommendations here.

Join the conversation: What books would you recommend?

Let us know here.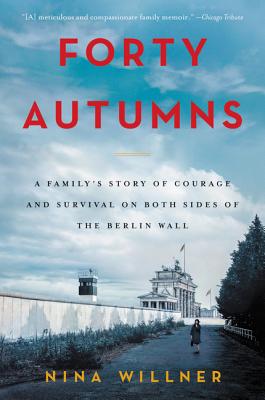 MARCH WOMEN'S VOICES SELECTION:
Forty Autumns by Nina Willner
We have selected the powerful memoir Forty Autumns as our Women's Voices selection for March, which is Women's History Month. Nina Willner's book goes beyond traditional Cold War espionage tales to tell the true story of her family—of five women separated by the Iron Curtain for more than forty years, and their miraculous reunion after the fall of the Berlin Wall. Forty Autumns makes visceral the pain and longing of one family forced to live apart in a world divided by two. "In this increasingly tumultuous modern era when borders, both theoretical and physical, have once again become the front lines of critical issues such as immigration reform, pervasive prejudice and terrorism, stories like Willner's are especially important." — BookReporter
Read other voices of women throughout history: See our timeline of books about U.S. History (since 1900). Add to the conversation: Recommend books that have spoken to you about women in history.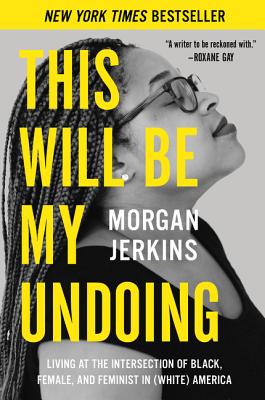 FEBRUARY WOMEN'S VOICES SELECTION:
This Will Be My Undoing: Living at the Intersection of Black, Female, and Feminist in (White) America by Morgan Jerkins
Join us for a discussion and book signing with the author on Friday, February 23rd, at 7:00. Details here.
From one of the fiercest critics writing today, Morgan Jerkins' highly-anticipated collection of linked essays interweaves her incisive commentary on pop culture, feminism, black history, misogyny, and racism with her own experiences to confront the very real challenges of being a black woman today. Publishers Weekly, in a starred review, says, "Jerkins's debut collection of essays forces readers to reckon with the humanity black women have consistently been denied. Her writing is personal, inviting, and fearless as she explores the racism and sexism black women face in America... [a] gorgeous and powerful collection."
Since it is important to not only read about issues, but take action on them in everyday life, we have come up with a list of challenges to keep us focused and make a difference throughout this campaign. See our Women's Voices Challenges list.