Sarah Vowell on Somewhat Serious Subjects
by Aaron Stoetzel
Published in our 2015 Winter Newsletter.
Sarah Vowell will be joining us at Bookshop Santa Cruz on Saturday, October 24th, at 7:00. Reserve your spot in the signing line when you purchase Lafayette in the Somewhat United States, online or in the store.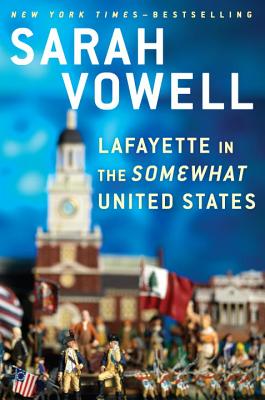 Sarah Vowell is easily one of my favorite writers. Like ever. She's the author of the nonfiction history books Assassination Vacation, The Wordy Shipmates, and Unfamiliar Fishes, as well as two collections of essays, Take the Cannoli and The Partly Cloudy Patriot. She's also a political commentator, NPR contributor, and actor. You might have caught her in 2010's Please Give and as the voice of awkward teen/superhero Violet Parr in 2004's The Incredibles (yup, that was totally her), but she's probably best known for NPR's This American Life and for her recurring appearances on The Daily Show.
That's how I first encountered her work. Back in 2005, Vowell was promoting Assassination Vacation, at that time her latest book. She was enthusiastically explaining to Jon Stewart how a batty ex-lawyer named Charles Guiteau, still smarting after getting kicked out of a 19th-century utopian society, shot President Garfield because he wouldn't appoint him to be ambassador to France. Can you believe it? Me neither, but before the interview was over I knew I had to read her book.
Vacation was a sort of a road trip through the sites, lives, and gift shops (no, really) connected with the assassinations of presidents Lincoln, Garfield, and McKinley. It's not every writer who can take on subject matters like that and tell a hilarious, sometimes sweet, road-trip story, but Sarah Vowell did and I was hooked.
How hooked? Hooked enough to make a pilgrimage to Buffalo, New York, to see the uninspiring "President McKinley was shot here" marker. And when I say uninspiring I mean it's a plaque stuck on a rock in the middle of a street in a residential neighborhood. Somehow Vowell's description of McKinley, the assassination, and the ridiculously humble monument made it worth the drive. (Confession: I used to live about an hour and a half from Buffalo, so it's not like I crossed a continent, but still, a rock.)
As you might imagine, I thrust a gleeful fist skyward at the news that Sarah Vowell had a new book coming out. Lafayette in the Somewhat United States is a biography of General Lafayette. I was fuzzy on just who Lafayette was before picking up the book. He was a soldier, a revolutionary, and a fantastically French dandy, but most of us have probably never heard of him, which is a shame, because without Lafayette, we might still be singing God Save the Queen.
But back to Sarah Vowell. What's great about her writing is her ability to make her subjects immediate and relatable. She never treats them as unapproachable historical figures. To Vowell, these are real, flawed human beings, just like us. (Well, mostly like us. They had a thing for powdered wigs and pantaloons that I don't think we'll ever understand.) Vowell makes them and the time in which they lived relevant in a way few other authors can do. Whether she's demystifying the Puritans in The Wordy Shipmates (spoiler alert: they're not all that pure) or introducing us to Henry Knox, the independent bookseller who totally saved America, she brings a sense of connection to the events of the past. She doesn't just recount what happened during the brutal winter at Valley Forge, she explains how the rebels were freezing their tricorns off 200 years before anyone ever heard of North Face puffy coats for the exact same reason teachers today have to buy their own chalk: We, as a nation, can be super cheap sometimes.
Lafayette in the Somewhat United States is a fun, fascinating read and one of Vowell's best. Read it. Like, right now. I'll wait. Back? Great. Now that you're finished, pick up The Partly Cloudy Patriot, a collection of her essays on America and how we got so…American, and while you're at it, check out my personal favorite, Assassination Vacation.
Sarah Vowell's wit and ability to present serious historical topics with humor and relevance make her the kind of writer who'll inspire you to drive to Buffalo to look at a rock.
Aaron Stoetzel is the HR person at Bookshop Santa Cruz. He likes to read, write, and bake—sometimes all three at once. The results are less than stellar.