The UCSC Literature Department and Creative Writing Program Present: LIVING WRITERS SERIES WINTER 2022: "Change Me: Stories of Radical Transformation." Sponsored by The Puknat Literary Endowment, The Porter Hitchcock Poetry Fund, The Laurie Sain Endowment, The Humanities Institute, and Bookshop Santa Cruz.
Thursdays at 5:20pm. The public is invited to join on Zoom
After a long period of sheltering in place and an even longer period of restricting our daily movements, many of us are ready for change. This winter's living writers all have stories of radical transformation to tell. TC Tolbert searches for a language to enact his transition from being Melissa to being TC; Jane Wong struggles to reconcile her American present with the transnational ghosts of her past; Yuri Herrera's heroine embarks on a journey across the Mexican American border; Karen Tei Yamashita tells tales of ever changing demographics and invisible histories; Eric Wat's protagonist remakes himself as he navigates drug abuse, sexuality, death, and family dynamics; the speaker in Sandra Lim's book of poems transforms not her life but the way she sees her life. All six writers remind us of the power of literature to transform us. They remind us that when we open a book, often what we're really saying is: change me.
Register for this free event series here.
January 13th: Jane Wong
Jane Wong is the author of How to Not Be Afraid of Everything (Alice James Books, 2021) and Overpour (Action Books, 2016). Her poems and essays can be found in places such as Best American Nonrequired Reading 2019, Best American Poetry 2015, American Poetry Review, POETRY, AGNI, Virginia Quarterly Review, McSweeney's, and Ecotone. A Kundiman fellow, she is the recipient of a Pushcart Prize and fellowships and residencies from Harvard's Woodberry Poetry Room, the U.S. Fulbright Program, Artist Trust, the Fine Arts Work Center, Bread Loaf, Hedgebrook, Willapa Bay, the Jentel Foundation, Mineral School, and others. Her first solo art show, "After Preparing the Altar, the Ghosts Feast Feverishly," was exhibited at the Frye Art Museum in 2019. She is an Associate Professor of Creative Writing at Western Washington University. Read more here.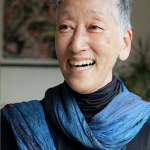 January 27th: Karen Tei Yamashita & Eric C. Wat
Read more here

Karen Tei Yamashita Karen Tei Yamashita is the author of eight books, including I Hotel, finalist for the National Book Award, and most recently,Sansei & Sensibility, all published by Coffee House Press. Recipient of the National Book Foundation 2021 Medal for Distinguished Contributions to Literature and a US Artists Ford Foundation Fellowship, she is currently Dickson Emerita Professor of Literature and Creative Writing at the University of California, Santa Cruz.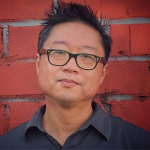 Eric Wat is a community advocate and author of the Los Angeles Times-bestselling novel SWIM (2019), about a meth addict having to plan his mother's funeral while trying to stay sober, and Love Your Asian Body (Fall 2021), an oral history about the AIDS movement in the Asian American community. He is also the author of The Making of a Gay Asian Community: An Oral History of Pre-AIDS Los Angeles (Rowman & Littlefield, 2002). He lives in Los Angeles. https://www.ericwatbooks.com/bio
February 10th: TC Tolbert
Read more here
TC Tolbert (he/him/hey grrrl) is a trans and genderqueer monkey-goat who never ceases to experience a simultaneous grief and deep love any time s/he pays attention to the world. S/he writes poems, works with wood, learns, teaches, and wanders. In 2019, TC was awarded an Academy of American Poets' Laureate Fellowship for his work with trans, non-binary, and queer folks as Tucson's Poet Laureate. Publications include Gephyromania (originally published by Ahsahta Press in 2014, to be re-released by Nightboat Books in 2022) and five chapbooks. TC is also co-editor (along with Trace Peterson) of Troubling the Line: Trans and Genderqueer Poetry and Poetics (Nightboat Books 2013). TC lives in Tucson, AZ where s/he is the current Poet Laureate. www.tctolbert.com
February 24th: Yuri Herrera
Read more here
Yuri Herrera's first novel to appear in English, Signs Preceding the End of the World, received great critical acclaim in 2015 and was included in many Best-of-Year lists. Yuri is a political scientist, editor and contemporary Mexican writer who teaches at Tulane University in New Orleans. His prose was described as "stunning" and his novel as an entrance "to the golden gate of Mexican literature" by Elena Poniatowska. Born in Acopan, Mexico, Yuri resides in New Orleans, Louisiana.
March 3rd: Student Reading
March 10th: Sandra Lim
Read more here
Sandra Lim is the author of the new poetry collection The Curious Thing (W.W. Norton, 2021). Her previous books of poetry are The Wilderness (W.W. Norton, 2014), winner of the Barnard Women Poets Prize selected by Louise Glück, and Loveliest Grotesque (Kore Press, 2006). Her writing has appeared in a range of literary journals, including The New York Review of Books, Poetry, The New Republic, The Baffler, and The New York Times Magazine, among others. Her poems and essays are anthologized in Counterclaims (Dalkey Archive Press, 2020), The Poem's Country (Pleiades Press, 2018), The Echoing Green (The Modern Library, 2016), and Among Margins (Ricochet Editions, 2016).
Sandra's honors include a 2021 Guggenheim Fellowship, a 2020 Arts and Letters Award in Literature from the American Academy of Arts and Letters, the 2015 Levis Reading Prize for The Wilderness, as well as residency fellowships from MacDowell, the Vermont Studio Center, and the Getty Foundation. She is an Associate Professor of English at the University of Massachusetts Lowell and also serves on the poetry faculty in the Warren Wilson College MFA Program for Writers.