Dear Readers,
The start of summer means taking stock of the first half of the year in books and for Bookshop staff, that means putting together our lists of the "Favorite Books of 2022, so Far." Always an impossible task, I narrowed down my list to six books that made a major impression on me during 2022.
Lost & Found by Kathryn Schulz
Kathryn Schulz lost her father to illness at the same time she met her would-be wife. Part poetry, part philosophy, part linguistics, part psychology, part memoir, Schulz's take on our experience of love and loss is cathartic, emotional, and profound.
Ain't Burned All the Bright by Jason Reynolds
A poem capturing the feelings of 2020 in three breaths—one for racism, one for COVID, and one for the strings that still bind us together. I listened to this audiobook read by the author and was completely blown away by this beautiful, stirring, and powerful work.
Horse by Geraldine Brooks
A deep, multi-faceted historical novel charting the life and legacy of one of the greatest racehorses of the 19th century. The book moves back and forth from pre-Civil War to present day and the people touched by the horse's legacy, while it explores notions of race, loyalty, and the choices that shape our lives. An epic novel.
The Candy House by Jennifer Egan
A follow-up to her Pulitzer Prize-winning novel, A Visit from the Goon Squad, Egan returns with the whip-smart writing, exquisite storytelling, and deep reflection on technology, society, and relationships that makes her books pop.
Nobody Gets Out Alive: Stories by Leigh Newman
Leigh Newman's book of short stories examines both the ordinary and extraordinary of living in Alaska. Each story of the hard scrabble existence of such independent people is smart, fresh, captivating, and courageous.
Booth by Karen Joy Fowler
The large family of John Wilkes Booth, some of the most prominent American Shakespearean actors of their day, share the stage of their life with the fanaticism and discord of the build-up to the Civil War. Fowler amazes with rich historical research, deeply defined characters, and incredibly relevant discussions of extremism and family loyalties.
I hope you have been reading some wonderful books. Keep an eye out for our Favorite Books of the Year, thus far email and our in-store display. I am always in awe with how many books our booksellers read so our list should include some phenomenal titles. Enjoy!
Casey Coonerty Protti
Owner, Bookshop Santa Cruz
Books I'm loving now: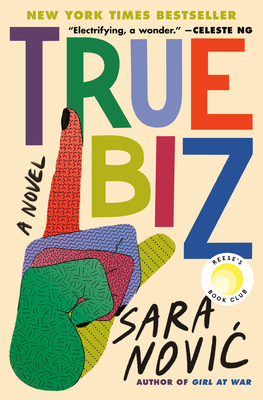 True Biz: A Novel
by Sara Novic
I was blown away by Sara Novic's debut,
Girl at War
, and anxiously awaited another. Luckily, I wasn't disappointed with
True Biz
, an exploration of the lives of deaf students at River Valley School for the Deaf. Novic, a deaf novelist and advocate, explores not only the push and pull between the deaf and hearing worlds but also the various ways families with deaf children navigate community and identity. A heartfelt, eye-opening coming of age novel we all need to read.
Last Summer on State Street by Toya Wolfe
Wolfe has burst onto the fiction scene with her highly reviewed debut novel telling a multi-layered coming-of-age story of a girl nicknamed Fe Fe in South Side of Chicago. As the city demolishes the Robert Taylor Homes she lives in, Fe Fe moves from innocence to a mature witness to the breakdown of parts of her community. Wolfe's voice is authentic, warm and powerful, making for a memorable and heartfelt debut.
Dele Weds Destiny by Tomi Obaro (releases on 6/28)
After decades apart and living dramatically difference existences, three college friends reunite in Nigeria for the wedding of one of their daughters. Obaro explores the unique bond of those who were with you when making some of the key, early decisions of your life, and what those friendships mean when you realize that the changes and decisions continue well into middle age. These three characters will delve into your heart and you'll be so happy to be along for the ride.