Monday, July 13, 2015 - 7:30pm
In another breath-taking collection of California's beauty, Tom Killion portrays the coast from Mendocino, Point Reyes, and the San Francisco Bay down through Carmel, Big Sur, Santa Barbara, and Santa Monica.
This new collection from the artist behind Tamalpais Walking and The High Sierra of California combines exquisite color with dynamic composition to portray the coast's ever-changing moods and diverse formations: storm tides crashing at Point Lobos, serene moonlit coves at Mendocino, fog encircling the Golden Gate Bridge.
Deepening our experience are poetry and prose from Gary Snyder, as well as selections from Native Californian traditional stories, accounts of travelers, and poems by Robinson Jeffers, Robert Hass, and Jaime de Angulo. As Tamalpais Walking and The High Sierra of California did for lovers of mountains, California's Wild Edge will delight anyone who has seen (or wants to see) the meeting of land and sea.
Woodcut and letterpress artist Tom Killion grew up in Marin County, California, on the slopes of Mt. Tamalpais, where the rugged scenery inspired him from an early age to create landscape prints strongly influenced by traditional Japanese woodblock prints. Along with publishing fine art letterpress books, Killion holds a PhD in African history from Stanford University and has taught history at several Bay Area universities. He is the founder of The Quail Press and his extensively illustrated books include 28 Views of Mount Tamalpais, The Coast of California, and Walls: A Journey Across Three Continents. Killion and Gary Snyder previously collaborated on The High Sierra of California (2002) and Tamalpais Walking (2009).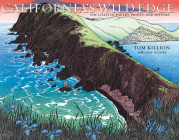 $50.00
ISBN: 9781597142991
Availability: On Our Shelves Now
Published: Heyday Books - September 2015
---