As a part of Bookshop Santa Cruz' year long Women's Voices campaign, the month of July has been dedicated to women in the workplace—with a specific focus on the unique leadership and community-building strengths of female business owners.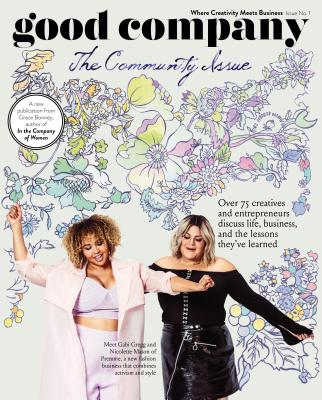 Bookshop's Women's Voices selection for July:
Good Company by Grace Bonney
In 2016, Design*Sponge founder Grace Bonney wowed us with her intimate and affecting portraits of creative women following their dreams and sparking a global movement of entrepreneurship in her book, In the Company of Women. Now she takes her work to the next level with the release of her biannual publication, Good Company, Bookshop's July Women's Voices pick.
Good Company highlights businesses, organizations, and creative endeavors taken on by female-identifying leaders who are using their collaboration, creativity, and bent towards social justice to change their communities.
We were so inspired by Bonney's profiles that we wanted to elevate the voices of some of the women doing this very work in our own downtown. Bookshop Santa Cruz joined dozens of female-led downtown businesses to launch a new organization—AWE: The Alliance of Women Entrepreneurs: Building Community in Downtown Santa Cruz. AWE aims to shine a light on the number of downtown businesses and organizations that are owned or managed by women and who are working every day to foster a strong sense of community downtown.
As part of our Women's Voices campaign, for the entire month of July, participating AWE businesses will showcase their female leaders with "Downtown Women's Voices" posters in their windows. (Read the AWE profiles here.)
We also invite customers to take the AWE Passport Challenge by visiting participating AWE businesses downtown—you might win a great prize from one of the businesses! Pick up a passport at Bookshop Santa Cruz, the Downtown Association kiosk, or any of the participating AWE members.

SAVE THE DATE: We hope you can join us on Wednesday, July 25th, at 7:00 to celebrate the launch of AWE at Assembly restaurant, 1108 Pacific Avenue. There will be appetizers, fabulous prizes, and great conversation. Mix, mingle, and get to know Downtown's Women-Led Businesses. This is a free event, but space is limited. Please RSVP to reserve your spot now.
Thank you to KAZU 90.3 FM, for cosponsoring our July AWE campaign.