Dear Readers,
In two weeks, Bookshop will host our first in-person event in two years. There are days when I sometimes forget what it felt like to gather together in a room to be inspired by an author, delve into the issues of the day, and come together as a community around our favorite books. Since March 2020, we've held over 130 virtual author events, keeping the connection alive. (To say that our Events Director, Chorel, is a hero for engineering, coordinating, and/or hosting all of our virtual author events would be an understatement.) Now, we will gather together at the beautiful Cowell Ranch Hay Barn at UC Santa Cruz for three in-person events to kick off this new chapter in Bookshop's history.
March 6th: There are few nonfiction authors as beloved as Erik Larson and we will begin our events programming by discussing the paperback release of The Splendid and the Vile, Larson's fascinating examination of Churchill's push to get the British public through the darkest year of their lives during the Blitz. A lot of people have talked about how this book provides a roadmap for our recent crises and the ways we need to believe in each other to persist. It should be a fascinating conversation.
March 8th: I just finished the exquisite new historical novel Booth by bestselling author and local Karen Joy Fowler and I couldn't be more excited to have an in-person event with her. The book, following the large family of John Wilkes Booth, casts its eye on the build-up to the Civil War and does so with astonishing historical research, deeply defined characters, and incredibly relevant discussions of extremism, family loyalties, and the role that society plays in defining good vs. evil. This book is a triumph!
April 7th: UCSC alum and Bookshop favorite Reyna Grande is back with A Ballad of Love and Glory—a fascinating historical novel about the allegiance between the Irish and Mexicans in the Mexican-American War. The intersection of cultures both defines the fight to preserve a sense of home while recognizing the common humanity between us. I can't believe how much I have learned from this book and I am so glad that we now have a chronicle of this lesser-known part of history.
As you can see, my History major heart is doing a leap with this lineup. We hope that you can come to these events, say hello (in person!), and remember what it means to gather, together.
Casey Coonerty Protti
Owner, Bookshop Santa Cruz
Books I'm loving now:

Recitatif
by Toni Morrison
What a gift to have Toni Morrison's only short story republished now. With a honest and illuminating introduction by Zadie Smith, Morrison explores a story where the racial context of the characters are purposefully ambiguous leaving the reader to delve deeply into their own constructions of race and class. Every word in this story has meaning.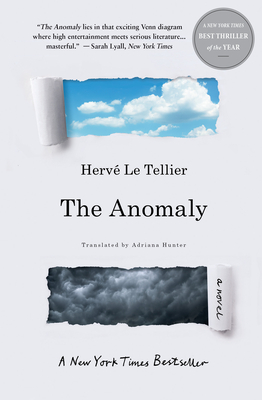 The Anomaly
by Herve Le Tellier
My book group read this to move us slightly more into the science fiction world and we were all blown away by the story (joining the entire country of France who devoured this and gave it all the prizes in 2021). It follows the intersection of lives from one Paris to New York flight and the unexpected trip to a new reality it creates. Innovative, funny, fresh and a page turner- can we now call ourselves scifi fans?
A Visit from the Goon Squad
by Jennifer Egan
If you are like me and missed the opportunity to read the Pulitzer Prize winning novel by Jennifer Egan (I had two kids under the age of 3 when it was published!), rush out to grab a copy of this now. It's brilliant, funny, edgy and will make you wait with bated breath for the release in April of its sister novel, The Candy House, which you can preorder now. You are not going to want to miss it.