Painting California: Seascapes and Beach Towns (Hardcover)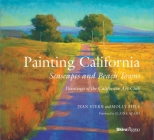 Staff Reviews
---
If you love the California coast and are dying for a nice coffee-table book celebrating its rugged beauty but can't decide between photography or paintings, I'm here to make your decision harder. These two books capture our gorgeous coastline—one in beautiful photographs, the other in luminous paintings that span 100 years of the California Art Club. Like me, you may be hard-pressed to choose between the two!
— Flannery
Description
---
Luminous, gorgeously realized landscape paintings made en plein air by members of the California Art Club over the past 100 years. This volume showcases 200 works by California Art Club artists who have focused on the evocative seascapes, charming seaside towns, and beach communities from San Diego to San Francisco, demonstrating a breathtaking range of natural settings suffused with atmosphere, drama, and light. Since the dawn of the twentieth century, California has been home to artists from all over America and Europe who aspired to depict the state's compelling natural landscapes on canvas. In 1909, these artists founded the California Art Club, which stands today as one of the most esteemed painting societies in the United States. This volume, which follows Skira Rizzoli's luminous California Light: A Century of Landscapes, presents more of the club's distinctive and lush plein air painting, an impressionistic style in which painters work outdoors in order to capture the ephemeral moment when the natural lighting of a landscape elevates an already beautiful scene into something sublime.
As observed by W.H. Auden, "Thousands have lived without love, not one without water." We as a species are drawn to the sea--artists perhaps even more so than others, as beautifully evidenced in this book.
About the Author
---
Molly Siple is an artist member of the California Art Club and author of numerous books and articles, including California Light: A Century of Landscapes. Jean Stern is the executive director of the Irvine Museum and coauthored California Light. Elaine Adams is executive director and CEO of the California Art Club. Founded in 1909, the California Art Club is one of the oldest, largest, and most active art organizations in the country.